Do You Own Your Practice,
or Does Your Practice Own You?
FREE Medical Practice Growth Book
Grow Your Medical Practice,
And Get Your Life Back
Get the Book
Medical Practice Success Toolkit
Free Tools to Help you
Grow Your Medical Practice
Access the Toolkit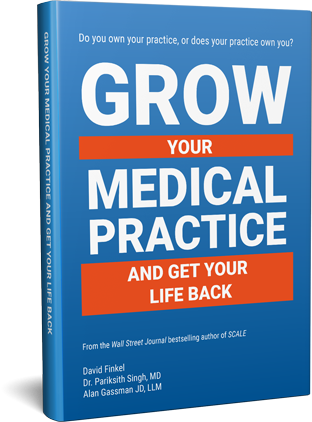 Want to improve your medical practice and your life? You can spend tens of thousands of dollars and years on an Executive MBA, or you can read this book. — Mickey Smith, FACMPE, FACHE, FHFMA, Past Chairman of Medical Group Management Association
A must read book for any physician looking to grow his or her practice the right way.  It has been extremely helpful for our multi-clinic practice. This book gives you the strategies, tips, and tools to successfully scale your practice. — Dr. Shekhar Challa, MD, President and CEO of Kansas Medical Clinic
This is one of the most valuable and insightful books available to any medical practitioner who truly is looking for a way out of the "rat race."  If you fail to adapt to this new era of medicine you have no one to blame but yourself. You can leverage your time, work less, and enhance your income, you just need a systematized plan and this book is it. — Dr. Grupreet Padda, MD
One of the key essentials in training physicians for tomorrow's medicine is need for a solid grasp on the business aspect of it. This book is a powerful blueprint to building a successful practice in today's competitive world. — Dr. Salman Muddassir, MD, FACP, Program Director of Oak Hill Hospital Graduate Medical Education Program
How do you create a healthy work/life balance AND successful medical career? As a premier staffing firm for locum tenens and permanent placement physicians, we work to achieve those win/win solutions for our physician partners and employer clients on a daily basis – and this book was still an eye-opener for me! This step-by-step guide to the good life is a must read for new practitioners and established medical practices owners alike. We will be giving a copy of this book to each of our clients and partners. — Dr. Neelam Patel, MD, CEO & Founder of Medifield Staffing Inc
A must read for any doctor who wants to build a patient-centric and profitable practice while at the same time maintaining work/life balance so they don't lose out on life! — Rupesh R. Shah, CEO of Freedom/Optimum Healthcare
Previous
Next
---
Do you own your practice or does your practice own you?
I know that's a blunt question to ask you directly, but my experiences working with thousands of physicians has taught me that you appreciate candor and directness.
So, have you built an owner-independent practice, or, rather, have you created a job for yourself? If you don't show up at the office tomorrow morning, will patients still be cared for, with consults and exams held and procedures performed? Or will your practice grind to a halt?
We've observed a troubling pattern among physicians in private practice—and our guess is that this pattern is quite familiar to you. It may well be the reason you visited this website.
In our combined seventy-one years working in primary care, coaching doctors on the business side of their practice, and providing legal counsel to medical groups and individual physicians, we've known far too many doctors who have seen their lives consumed by their medical practices. These are doctors who forfeited time with family, their passion for medicine, and nearly their sanity in order to devote sixty, seventy, and even eighty hours a week to their work. At the same time, these doctors didn't necessarily see the financial rewards they'd expected from all that hard work. They made a fine living, yes, but their medical practices hadn't yet achieved the all-out financial success to which they'd aspired—even as they worked harder and harder.
That's why we wrote, Grow Your Medical Practice and Get Your Life Back, and created this website – to give you the map to build a better practice. This map will help you grow your medical practice and earn more while working less.
Everything we'll share with you on this site and in the book has been tested and validated. These are the same strategies that Dr. Singh has used to scale his family-medicine practice into 83 locations with 177 medical providers. Over the past decade I've taught this same methodology to build and scale owner-independent medical practices to thousands of medical groups across North America, and the results of our business-coaching clients have enjoyed prove that the map works.
So enjoy the site. Explore and profit by the lessons, strategies, and tools we provide for you and your staff.
Your first step is to get a copy of, Grow Your Medical Practice and Get Your Life Back.
If you've already gotten your copy, then make sure you register and access the free Medical Practice Success Tool Kit. It includes over a dozen video-training modules to help you grow your practice according to proven best practices. Designed for physicians, practice managers, and your support staff, these training videos will help you increase your patient volume, recruit and intelligently onboard new providers, and control your practice expenses.
We've even added an entire section on the key legal issues you face, based on Alan's extensive work as one of the nation's leading physician attorneys. You'll gain clear insights into how best to structure your employment agreements and non-competes, hospital integrations, and other critical areas of practice law. This one section alone will give you greater peace of mind and clarity on how you must operate your practice to reduce your liability and enhance your success.
Finally, if you're looking to get one-to-one help growing your practice the right way—so that you grow your practice and increase your personal time freedom—then make sure you click here to do a free coaching session with one of our experienced practice coaches. This deep-dive strategy session will help you pinpoint the key constraints to growing your practice and map out the best ways to grow. Think of this as your way to get our concrete assistance in applying the concepts and strategies you've been learning about to your specific practice and personal circumstances.
All three of us thank you for the work you and your medical practice does to care for your community and we look forward to meeting you in person sometime in the future.
Sincerely,



David Finkel
CEO
Maui Mastermind®
---